Paris proposal & wedding photographer
We care about every details
Since 2009, we offer a high-end photography service for marriage proposals.
Finding a serious photographer in Paris is not easy. We don't compromise on quality. We aim to be the best Paris proposal photographer.
Bruno and his team will take your hand and become your personal planner to make this event a big landmark in your life. We take the time to prepare the event, step by step. We help our clients to choose the best location and time. This activity has increased so much we created in 2014 a dedicated Web site: proposal-in-paris.com
We strongly suggest you to visit the Web site proposal-in-paris.com where you'll find many ideas for your proposal. And of course don't hesitate to drop us an email with all your questions: we'll make our best to answer within 24 hours!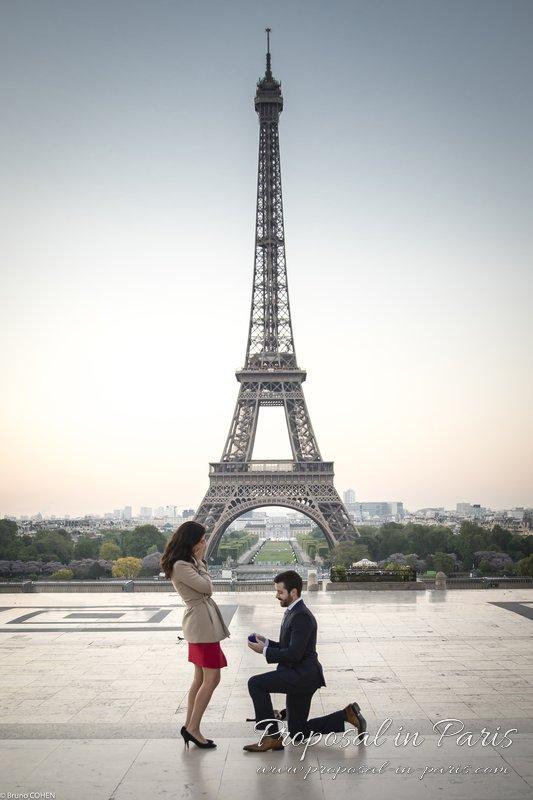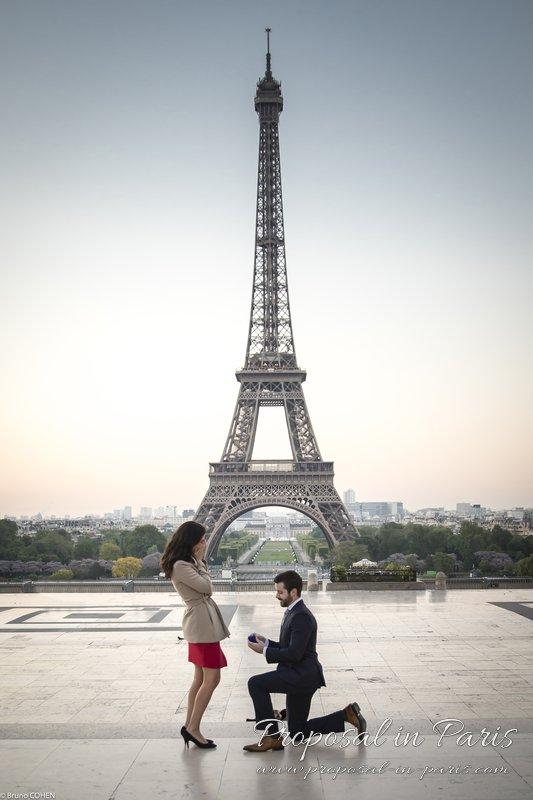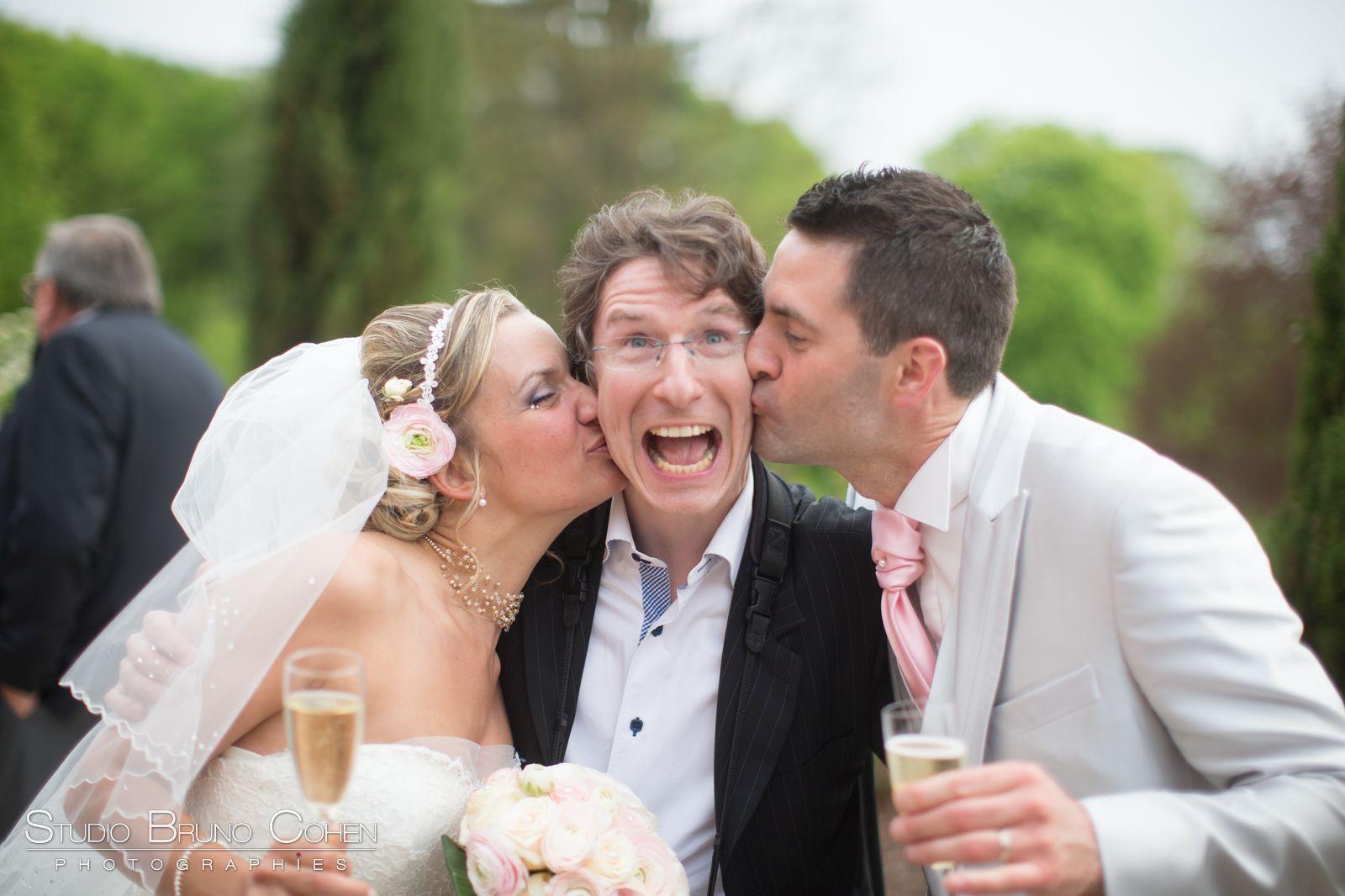 Bruno Cohen was born in Paris in 1968. His father, who was a photographer, offered a camera to Bruno when was 9.
After studying graphic arts, Bruno graduated from Brussel's Inraci photographic school in 1989.
Unlike his father, Bruno always preferred non-posed pictures, putting life and real stories to tell in every photo.
He is a fan of Robert Doisneau black and white journalistic style.
A part of his family lives in Florida, and he LOVES coming to the US ( and speaking English).
Out of his wedding report, Bruno is a landscape panorama photo addict, and his work was shown in several exhibitions in Paris (Maison de la photo), Senlis and Chantilly.
His studio is located in Senlis, 35 from Paris and 15 mn from Charles de Gaulle Paris Airport. Senlis is a very nice medieval town that you have to visit if you plan to come to France !
Since 1990, we have developped a different way of taking natural Wedding photos.

Our photographers always meet the bride and the groom before the wedding, to prepare (technically and artistically) this very important day. We listen to your wishes and give you tons of tips: we become a very close partner in your Wedding preparation.
We shoot black and white or colour images, but we always respect the natural lights and preserve the true atmospheres.
We use professional cameras only (Leica,Canon), and very large aperture lenses to blur the backgrounds. That's how we get natural light perfectly rendered.
We take a lot of photographs, to let you choose from usually at least 3 times more than the final selection.
We correct all photos one by one before delivering and printing.
Well, that may sound obvious, but we speak English!
If you have any question, feel free to drop us an email or call us.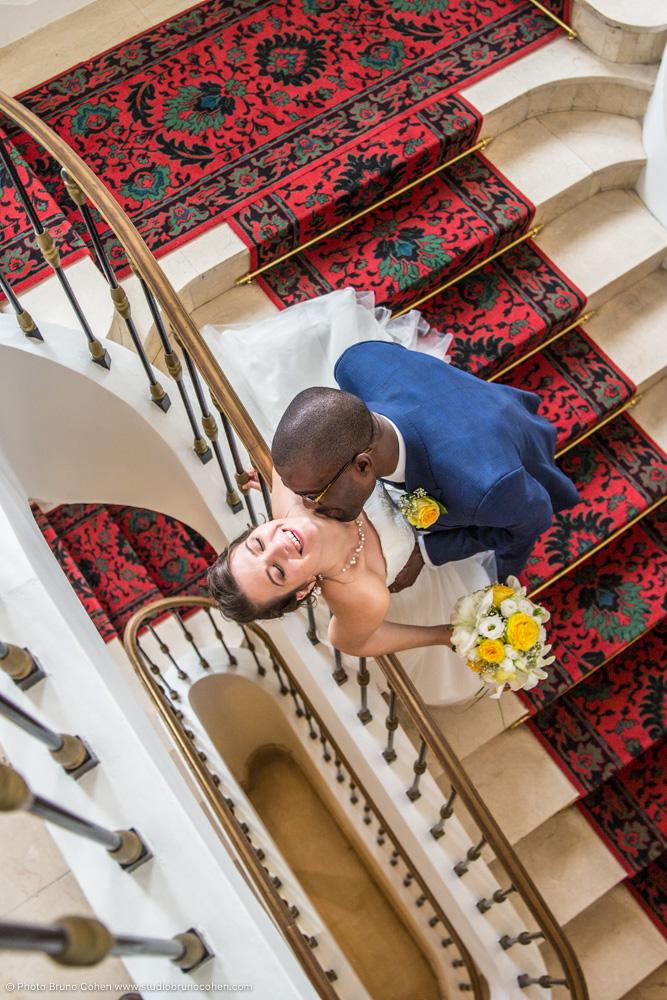 Engagement photos were introduced in France in the early 2000's , but they have now become a must-do in our studio.
We strongly recommend to all future bride and grooms to experience the pleasure of a portrait photo-session to get used to the camera and see how it's easy with us. Remember we'll be guiding you every time you need it.
An engagement photoshoot takes between 1 and 2 hours, and it's full of fun and laughter.
These photos will be cherished forever, not only by you, but also by your parents.
Last but not least, you will increase your photogenic skills and get more comfident with your photographer. After an engagement photo-shoot, you will feel 100% ready to pose for Wedding pictures!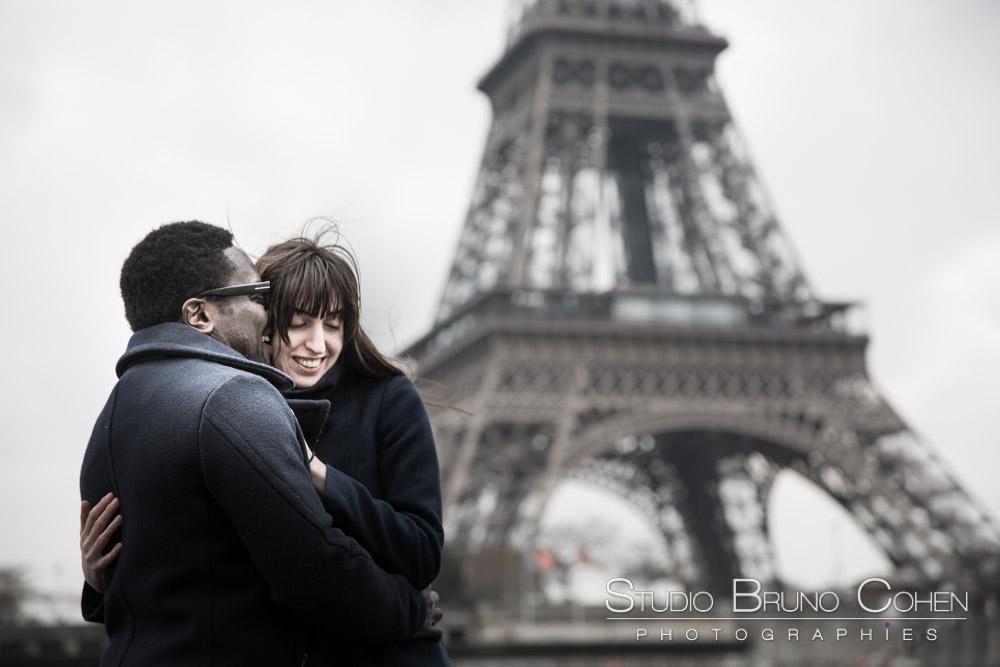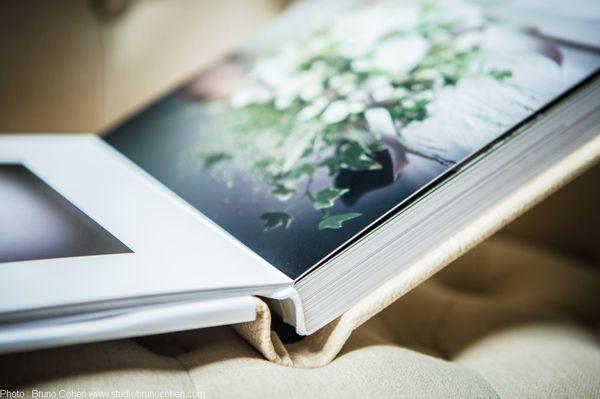 After long hours deciding on so many details for your wedding to make it the perfect day, choosing your photographer is very important. We know the expectations are high from us as we will be the one to capture every detail of the day. But even if our photos turn out great on your computer, isn't it important to have something to handle and share?
That's why we strongly recomend to have a Wedding Book.
A Wedding Book is not just an album but a complete process of creation to produce a collection of books for you, your family and your friends. Choose from the most beautiful personalised silk covers, premium Italian leathers or soft Alcantara to envelope your most treasured moments. Inside we will, using the latest digital technology, create a timeless story book published just for you.
With stunning layouts and beautiful yet subtle backgrounds, your wedding book is carefully designed by us with style. Of course, you will be involved in the design process to see your book virtually on line before it's printed.
Frequently Asked Questions
What is wedding photojournalism ?
It is photography that is unobtrusive and focuses primarily on the candid, spontaneous moments of a wedding. We never interrupt, nor do we try to direct or choreograph the wedding.
What is the standard length of time for photography coverage ?
That is entirely up to you. The amount you need will depend on your schedule and the events of the day. We recommend a minimum of 7 hours of coverage to ensure that we capture the flow of the day in true photojournalistic style.
When do you begin shooting photos ?
Because we use a photojournalistic approach to photographing weddings, we shoot during your whole event. We like to capture the day in its entirety – from the bride getting ready to the cocktail (and optionnaly to the cutting of the cake).
How do you approach formal portraits ?
We have a very natural approach to photographing the bride and groom and bridal party portraits. However, we found that everybody's needs are different in this particular area and we will customize the coverage to your preferences.
What is « team coverage » ?
The nature of a wedding is celebratory and often spontaneous, memorable events happen simultaneously at different locations. For this reason we strongly recommend a team coverage, which consists of 2 photographers and an assistant.
What do we receive after the wedding ?
You will receive a proof CD and contact-sheets that contains all the images. Depending on your coverage, the amount of images it contains is usually 300 to 600. A customized web site is also created for you so that you may easily share your images with family and friends.
Do you offer Wedding Albums ?
Absolutely. We design and produce exquisitely handcrafted, top quality leather , silk or cotton bound albums.
How far in advance do you recommend we book your services ?
Generally our photographers are booked 9 to 12 months prior to the wedding date. However, do not hesitate to call about an event that is just around the corner as we may have some last-minute availability.
How do we reserve the date ?
Please contact us at the studio and we will send a contract out to you. A 20% deposit is also asked.ity.
Will we meet with you before the wedding ?
Of course. Please call the studio and schedule an appointment with one of our photographers. If you cannot make it to the studio you can also book our services over the phone, but it is definitely by meeting your photographer that trust and understanding will come.
What cameras and lenses do you use ?
The photographers use only top-grade, professional cameras and lenses with the best optics. We normally work with at least 2 cameras and a variety of lenses from 1,4/24mm, 1,2/50 mm to 2.8/200mm.
How can I print my own print from your DVD ?
If you use our lab services, images are individually corrected for exposure, color balances to optimize the subject's skin tones,  and adjusted for contrast. All prints are manually printed on Luster paper and can be ordered directly from our Web site (Prices start at € 6.00).
Do you have a price list ?
We usually give a specific quotation during the first meeting. Every wedding is different , so we don't have standard packages, just have in mind we usually quote between €1500 and €3500.
How far do you travel ?
We travel anywhere in France and sometimes in Europe ( UK , Italy and Germany). We speak english and our wish is to travel more often to UK, Canada and the US.
Do you take engagement photos ?
Do you take honeymoon photos ?
We also shoot wedding portraits after the D-Day, and, as a Honeymoon photographer in Paris, we can schedule your complete session during your trip in Paris, including make-up and hair-dressing.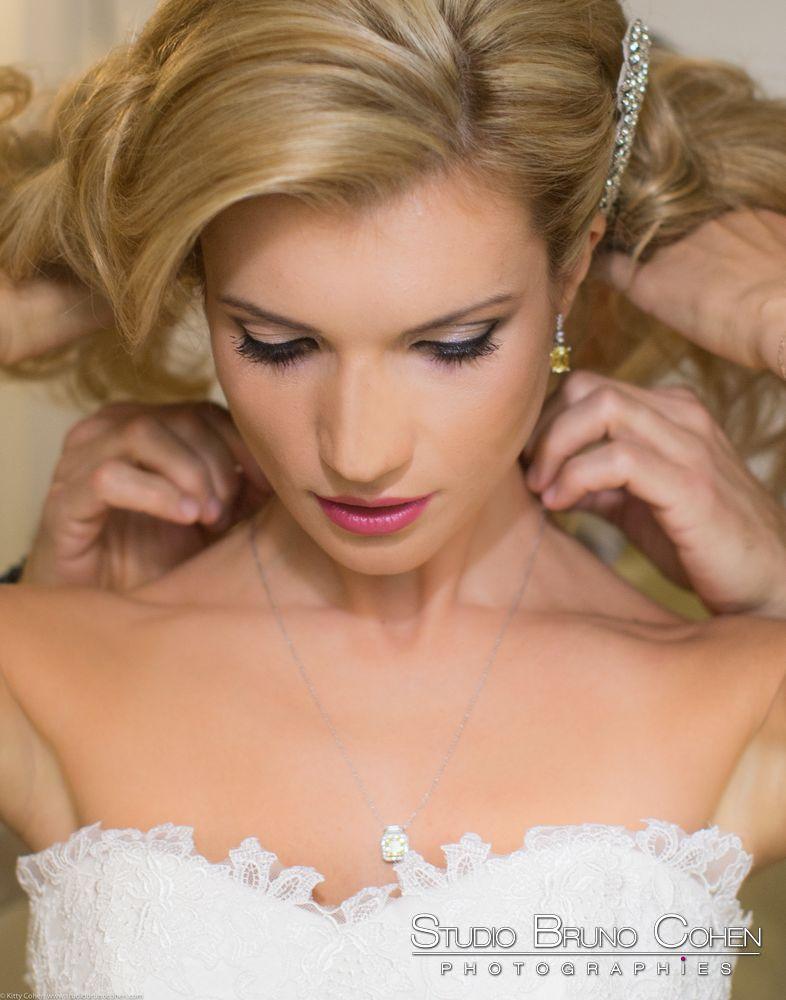 Our Studio is located in Senlis, a beautiful historic medieval town located 35 mn from Paris) since 1977. All the future moms, new born babies, children and families are welcome to photo-shoot beautiful and natural portraits.
We also take outdoor portraits in Paris or near our Studio. The streets nearby are like movie sets!
A few words from our clients:

« WOW! The photos are magnificent! You are truly an artist. 
We absolutely love them, and we have watched the video many, many 
times over the past few days since your e-mail. Our parents cried when
they saw it. It is very special to be able to share the moment with 
them! »
 
« Wow! It doesn't get any classier than that! It looks like something out of the movies! In fact, we would like to buy almost all of them in digital format. What is the best way to make that happen? Thanks again! »